Welcome to Beef & Brew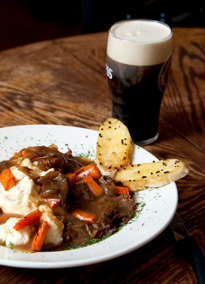 The Beef & Brew restaurant is located at 293 Main St. in Geneva, NY. We are open for lunch and dinner 7 days a week from 11 am to 10 pm. The restaurant has a warm and inviting atmosphere with a stone fireplace in the main dining room as well as traditional tavern seating in our large bar area. We also have seasonal seating with our outdoor deck and bar.
Our menu features American, British, and Irish fare and our signature dishes include Beer and Cheddar Soup, Beef and Brew Stew, Polish Kielbasa, a Slow Roasted Beef on Weck Sandwich, and the best steaks in town.  Our desserts are homemade and include such traditional favorites as Apple Pie, Chocolate Mousse Cake, Carrot Cake with cream cheese frosting, and Coconut Cream Cake.
The bar features over 160 varieties of beer and 50 draft choices.  We have specialty cocktail drinks from Mojitos to Pina Coladas. Our wine list is among the best in the area and includes many local Finger Lakes wines.
We also can accommodate your special occasions including birthday parties, bridal showers, office parties and more.
Please feel free to call for reservations at 315-789-7770.